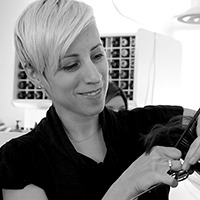 Janis
Stylist
SCHEDULE APPOINTMENT
REFER A FRIEND
BUY GIFTCARD
Service Specialties: Cutting, making blondes BLONDER, short cuts and men's cuts.
What I'm proud of: Pursuing my dream of being a stylist and being at Joe's since 2011.
What I'm passionate about: My heart is in cutting; tailoring a shape to not only the person but also their lifestyle. Short cuts and men's cuts are so much fun for me. Though there is a sculptural element to both, they are a totally different point of view. There is a softness to a woman's short haircut that is integral. I love detail work on all length cuts. The true importance of bringing out the personality of the client while still being functional.
What inspires me: My clients, my life here and the Joe's standard set for us (with a funky edge of course).
Why I love Joe's: So many reasons! The atmosphere inspires me. My co-workers talent and humor. Karen is an amazing mentor and gives us every opportunity to further our education and careers. I couldn't imagine being anywhere else!
My Go-To products: LOVE Bb Styling Creme with Bb Defrizz-so versatile and works for so many hair types. Bb's Hairdressers Invisible Oil Family-it's what thirst hair NEEDS. Oribe's Thick Dry Finish Spray- perfection for pillow-y volume.
MY HOURS
TUE | 03:00 PM -08:00 PM
THU | 08:30 AM -02:30 PM
FRI | 08:30 AM -02:30 PM
SAT | 08:30 AM -04:30 PM