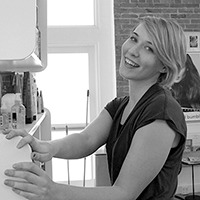 Christine
Stylist
SCHEDULE APPOINTMENT
REFER A FRIEND
BUY GIFTCARD
What I'm proud of: I've been a stylist at Joe's for 5 years. Classes taken at Bb University, Redken Symposium and in-salon hands on product knowledge and hands-on training.
What I'm passionate about: Photography; my degree in photography helps the way I look at hair.
What inspires me: I find my inspiration comes from my love of nature. My time outside Joe's is spent at the beach, on the water and hiking. This translates to my work for wearable and playful hair. Ombre colors give me the perfect inspiration for the beach hair I adore.
MY HOURS
WED | 03:00 PM -09:00 PM
THU | 08:30 AM -07:30 PM
FRI | 03:00 PM -08:00 PM
SAT | 08:30 AM -04:30 PM